Marc is from U.K. He started his Mandarin Class from 2016 in Mandarin Inn. The guy from Manchester worked in Korea and China. Right now he is working for an international education program in China. Let's see his view of Chinese life, people, language, education...
Marc 来自英国。 从2016年开始在Mandairn Inn学习中文。这位从曼切斯特来的小伙子在韩国和中国都工作过。目前,他正在为一个国际教育项目在中国工作。让我们通过访谈,看看他对于中国的生活,人,语言以及国际教育有什么独到的看法...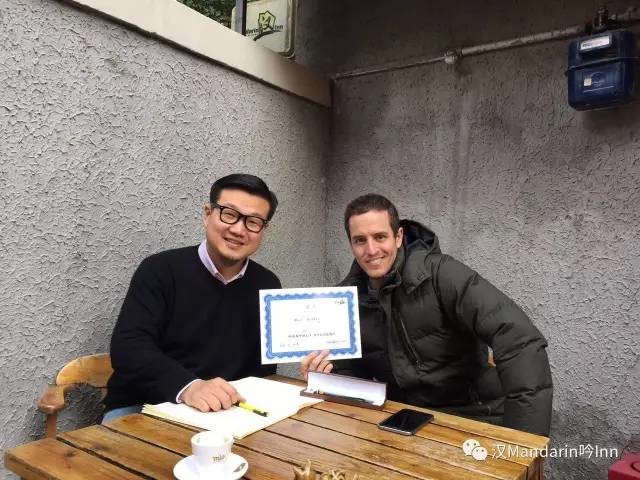 Arvin (interviewer)
M: Marc (interviewee)
A: thank you very much for this interview. From your teacher, we know that you study very hard, and through the center manager, we understand that you are also very enthusiastic, you have recommended a lot of your friends to our school. So we really appreciate you. Today, we are only talking about a very casual topic. Would you like to introduce yourself first?
A: 非常感谢您参加这次采访。从你的老师那里我们知道你学习相当努力,同时通过中心经理,我们了解到你也非常热情,你已经推荐了很多你的朋友到我们的学校。所以我们真的很感激你。 今天,我们只谈谈非常休闲的话题。 你想先介绍自己吗
M: Yes, I'm Marc. I'mfrom Manchester in the UK .I'm 32 years old. I've stayed in China for about 5years. I work in education. I haven't studied too much Chinese until now, but Ithought long enough, I should probably improve my Chinese which is the reasonwhy I'm here.
M: 我是马克。 我来自英国的曼彻斯特,我三十二岁。 我在中国呆了大约5年。 我从事教育方面的工作。 目前为止,我还没有学习太多的中文,但我觉得是时候我应该改进我的中文,这是我在这里的原因。
A: So, in Manchester whatdid you do?
A: 所以你在曼彻斯特从事什么工作?
M:I studied business. I worked in finance. I worked in The Royal Bank ofScotland.
M:我学习商业。我在金融方面工作。 我在苏格兰皇家银行工作。
A: It is a very good job.
A: 这是一个非常好的工作。
M: It's only a job after the university. It was reallygood anyway