Kenna is the "student of the month" last month at Mandarin Inn. She has studied Chinese in Mandarin Inn for only three months, but she has made great progress......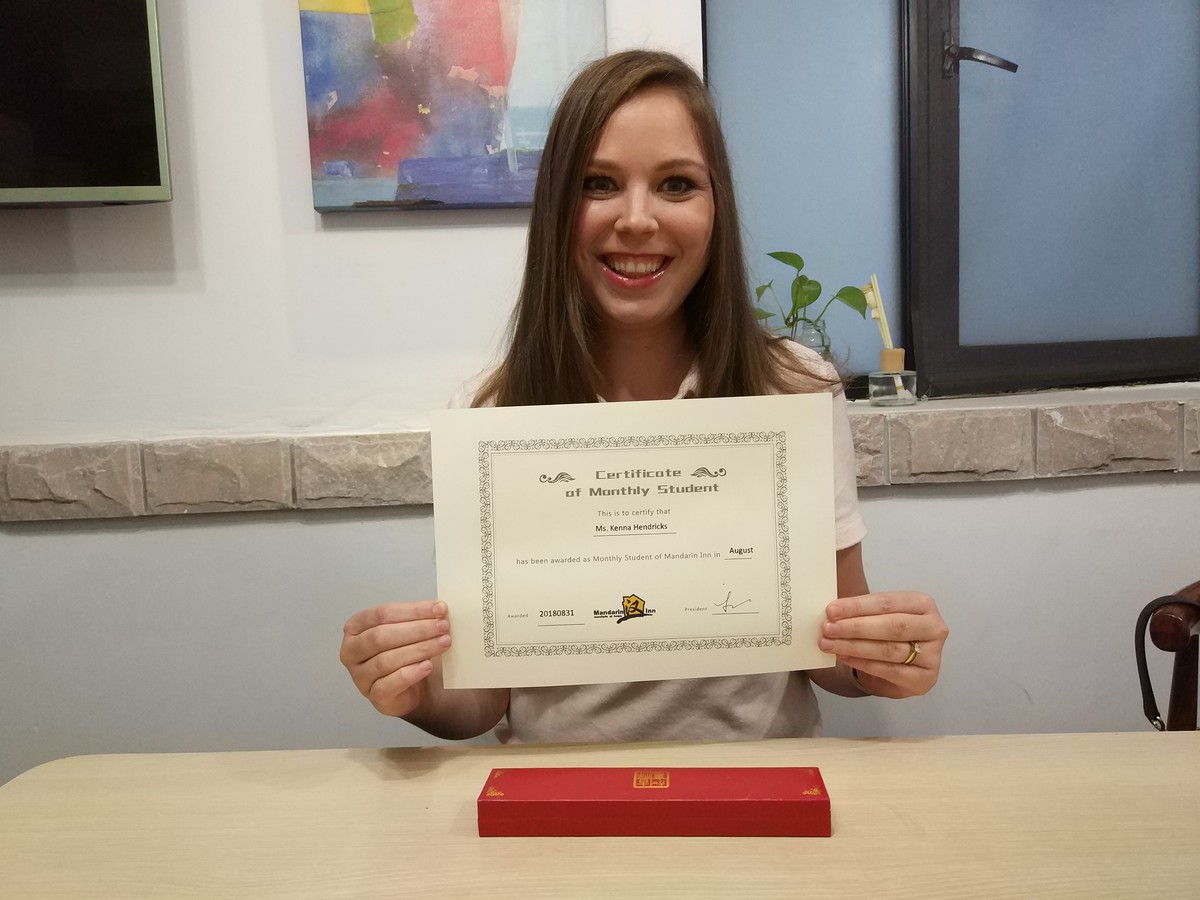 "I'm Kenna from the USA. I've been in Shanghai for one year and I started with Mandarin Inn in June. I absolutely love this school. The teachers and staff are so wonderful. I also like to play Mahjong and I enjoy cooking. "
Q1: Please introduce yourself(use as much as Chinese you can)
我(wǒ)的(de)名(míng)字(zì)是(shì)Kenna, 我(wǒ)是(shì)美(měi)国(guó)人(rén),and have been in Shanghai a year, 一(yī)年(nián). So I haven't been here too long, I'm pretty new. I've been in HSK Level 1.
Q2: Except for language, what's the hardest thing to understand for you in China?
I feel like learning language is everything. If you take away the language, then there's nothing really that hard for me about living in Shanghai. So language is really the biggest barrier for me. I mean obviously some days can be challenging, but that's not really something you don't understand, you know, it's just different culturally. So in terms of understanding the language, that is the hardest part for me.
Q3: As a good student, how do you learn Mandarin? Would you like to share your tips?
Yes, of course. I am very determined to learn Mandarin but it takes time and practice. I guess my biggest tip would be that right away when I met with Miss Gwen and she's started showing me characters, I started to make flash cards.
I will make flash cards by myself after the class, and I just started making them at home. My teacher didn't have me do it. I just started doing it on my own because that way I can review them.
As you know, I'm still new at learning characters. But I'm very visual. So it really helped a lot for me specifically to have something to refer to. I can take them with me and study them if I'm ever bored.
The flash cards are good for learning Chinese. If you make them every time you learn a new character it really helps, and it's not like you have to make three hundred every night. So just four or five a day, or whatever you want. It only takes ten minutes and you can review them a lot - that's really helped me.
Q4: Do you think it is necessary to learn Chinese Characters?
Yes. Before I studied Chinese in other school, I took about a hundred and fifty hours in Chinese lessons, and I didn't learn anything. That was really difficult.
As soon as I started studying the characters here, it was like learning characters help me with pinyin, and learning pinyin helped me with the cha