Return to site
The Legend of How the Mid-Autumn Festival Began
See what foreign students want to know from Chinese teachers...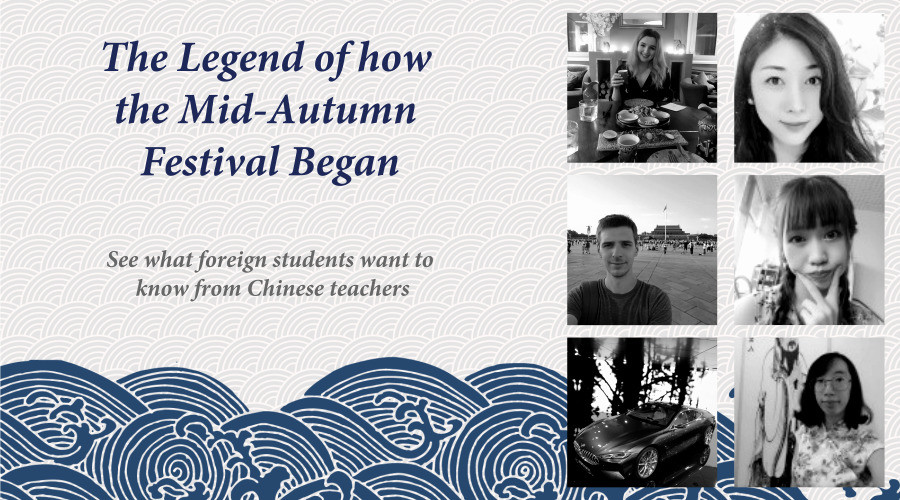 The Mid-Autumn Festival is one of the two most important holidays in the Chinese calendar (the other being the Chinese Lunar New Year), and it is considered a legal holiday in several countries. Traditionally on this day, Chinese family members and friends will gather to admire the bright mid-autumn harvest moon and eat moon cakes together.
The Mid-Autumn Festival is coming soon this year. Our students asked some questions about the Mid-Autumn Festival --- let's see how our teachers answer these questions. Below are some extracts:
Q1: "What's it about? "
Q2: "Why is it celebrated? "
Q3: "What do people do during this time? "

"The Mid-Autumn Festival is one of the most important traditional festivals in China. Also known as Reunion Festival, Autumn evening or the August Festival, the holiday happens annually on August 15th of the lunar calendar."
"Mid-Autumn Festival heralds the reunion. It is a time for family members and loved ones to congregate and enjoy the full moon.
On the 15th day of the 8th lunar month, the moon is at its roundest and brightest, symbolizing togetherness and reunion in Chinese culture. When people look at the moon, it reminds them of their families and homeland."
"Mid-Autumn Festival is a time to eat moon cakes, enjoy the full moon, tell lantern riddles, and enjoy many other activities."