Lately, I've been walking around Changshu Road in Shanghai, and a small shop called "HongGuan" ("红馆" in Chinese, which means "the Red Gallery") caught my eyes. They have beautiful Choanosome and Ceramic paintings, and I immediately thought: "These could be fantastic gifts for my friends!" I can't remember how many times I searched "gifts to bring back home" on Google when I'm abroad. It has always been a huge challenge for me to pick gifts for my homies in a foreign country. But I can easily pick gifts for my foreign friends in my hometown, Shanghai. Like many travelers, you may choose to buy gifts from airports or popular shopping malls. You're never confined to these places. Shanghai has tones of unique gift shops, and every one of them have something that is worth the price. "HongGuan" is definitely one of them.
Read on to see 3 fantastic gifts "HongGuan" would surprise you with love and creativity.
1ST GIFT: Ceramic Painting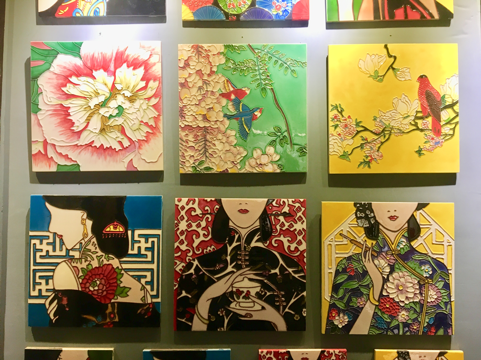 Ceramic Painting is a kind of traditional Chinese art. The long history of ceramic painting can be retraced back to 100-200 AD, when in late Eastern Han Dynasty, Chinese pottery reached its first climax. From that, ceramics and pottery in China started to develop countless techniques and styles. Ceramic painting is one of them. Being different from most potteries and porcelains in ancient China, ceramic painting is not like a plate or a pot, instead, it's like an oil painting. We usually embed it in pieces of wooden furniture or hang it on the wall.
Ceramic paintings in "HongGuan" has a unique feature: the surface of the ceramics is uneven. The creation of these ceramic paintings very much resembles the technique used in lead-glazed sancai ("三彩" in Chinese, which means three-color) wares which are very popular during the Tang Dynasty (581-970 AD). Lead-glazed sancai uses lead to first outline the patterns on the ware, and then uses glaze to paint the whole ware. Using lead prevents glazes of different color from mixing together. "HongGuan" ceramic painting adopts similar technique, but it uses slurry to contour its patterns. Slurry lines make the surface of the ceramics uneven. The function of slurry lines is also to prevent glazes from mixing together. Sometimes, craftsmen take out slurry lines on purpose to let various colored glaze blend and create a harmonic color gradient. Sometimes, odds are the master of miracles.
"HongGuan" provides gorgeous ceramic painting hand-made by their craftsmen. Also, they arrange ceramic workshops for those who want to make their own personalized ceramic paintings. (I've ran into one of their workshops, it's super lovely!)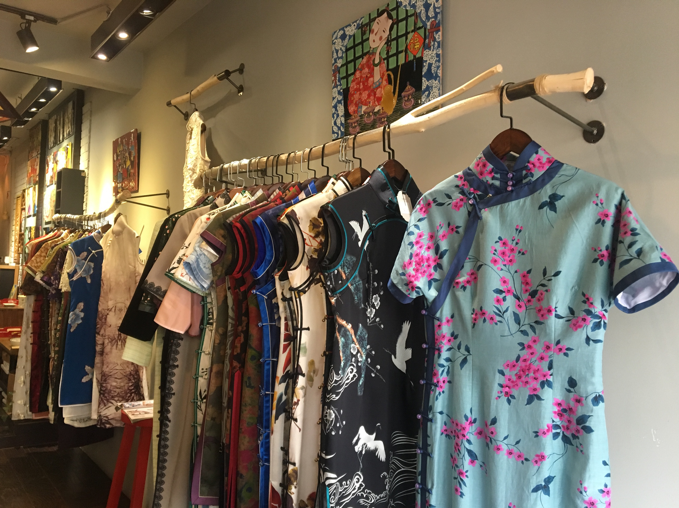 Shanghai is famous for its Cheongsam fashion, why not bring one back for your friend?
Cheongsam (from Cantonese Chinese "长衫", meaning "long shirt" or "dress"), also known as Qipao (from Mandarin Chinese "旗袍"), is the most prevailing style around 1920s to 1940s in Shanghai. Nowadays, Cheongsam still charms Shanghainese and people from all over the world with its elegant design and deep history.
During the Qing dynasty, the Manchu ruled China. The Eight Banners ("Qi" in Chinese) of the Manchu (the general name for the aristocracy of Manchu) and ordinary Han civilians wore different clothes. The Banners (qí) were called Banner People ("QiRen" in Chinese) wore Manchu clothing, which is the origin of Qipao today. Qipao at that time fitted loosely around the body and hung straight down or flared slightly in an A-line. This style is the feature of Qing Dynasty clothing.
During the Republican period, Cheongsam in Shanghai is deeply influenced by Western fashions. High-necked sleeveless dresses, bell-like sleeves, and lace elements were introduced. By the 1940s, cheongsam came in a wide variety of fabrics with an equal variety of accessories. These changes established the important figure of Shanghai Cheongsam in the history (also known as HaiPai Cheongsam), which is totally different from Beijing Cheongsam (also known as JingPai Cheongsam). Instead of adding modern elements to Cheongsam as HaiPai did, JingPai Cheongsam preserves the loose and stunning margins of Qi Dynasty fashion.
What surprises me in "HongGuan" is that they have a wide variety of Cheongsams that you can choose from. Most Cheongsam shops in Shanghai usually only provide HaiPai Cheongsam. Having more choices is never a burden. Maybe you would find your fervent love for JingPai Cheongsam at "HongGuan"?
The owner of "HongGuan" is going to have a Cheongsam workshop at Mandarin Inn, and I'm definitely going to pick one for myself during that workshop.
3rd GIFT: Maybe a piece of wooden furniture?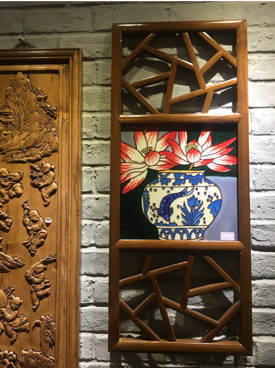 "HongGuan" also sells beautiful furniture. They are never too large: a small piece of carved wooden artworks is good enough. A combination of wooden furniture and ceramic painting can be a memorable gift for your homies!
So, remember, large shopping malls are not the only destination for your gift-shopping. Check out small and unique shops like "HongGuan" and bring back tradition and creativity!
In case you need this: the address of "HongGuan" is: No. 1250-5 HuaiHai(M) Road.
I'm so glad that I found "HongGuan" and that I have this chance to tell people the story behind it. This pleasure is not about what they sell, rather, it's about who I am. Living abroad for so long makes me forget where I came from. What "HongGuan" is doing reminds me of my deepest nostalgia, a relief of finally finding who I really am. They preserve a tradition that is long forgotten by many but is worth being remembered.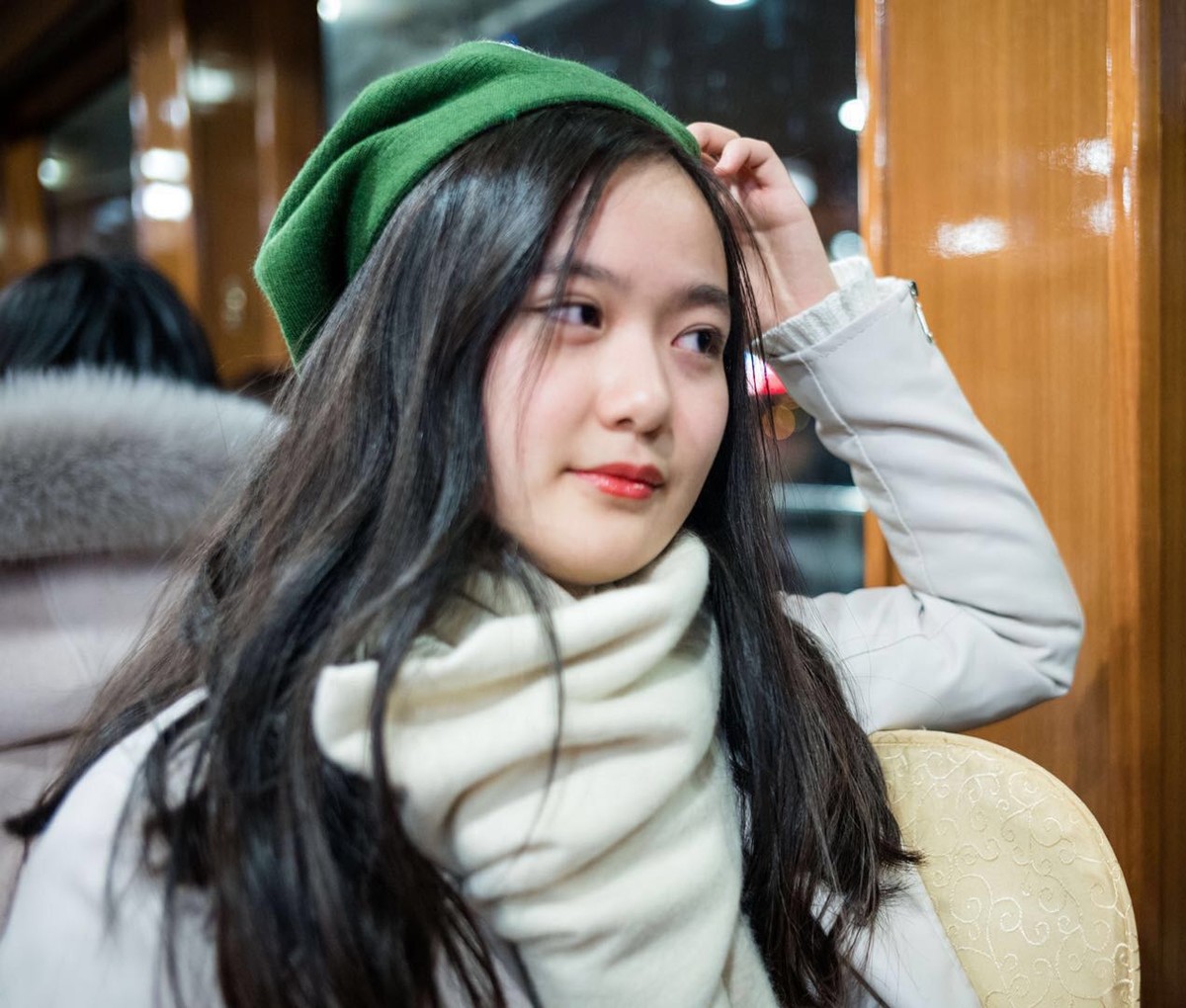 About the blogger:
Sharon Wang is attending Reed college in Portland, OR. Shanghainese born and raised, she's returned home for the summer to blog, take over our instagram and to learn about running a Mandarin school. She's passionate about math and marketing and is exploring ways to improve our marketing activities with math. If you see her around Mandarin Inn, ask where to eat nearby - she's a total foodie.