As time goes by, it is now the 12th year since Mandarin Inn Chinese Language School was established. Whether you have already graduated from MI or just stepped into our classroom, we would like to thank you for being with us during your journey of learning Chinese language.
Now we would like to build up Mandarin Inn's Alumni Association starting from Linkedin in order to strengthen the communication with alumni and school, also broaden the contacts among alumni. Hope you can spare some of your valuable time from your busy schedule helping us on the following work.
1. Log on your Linkedin profile if you have one, enter Education under tab Add profile section;
2. Put "Mandarin Inn Chinese Language School Shanghai" in School, and years you did Chinese language training;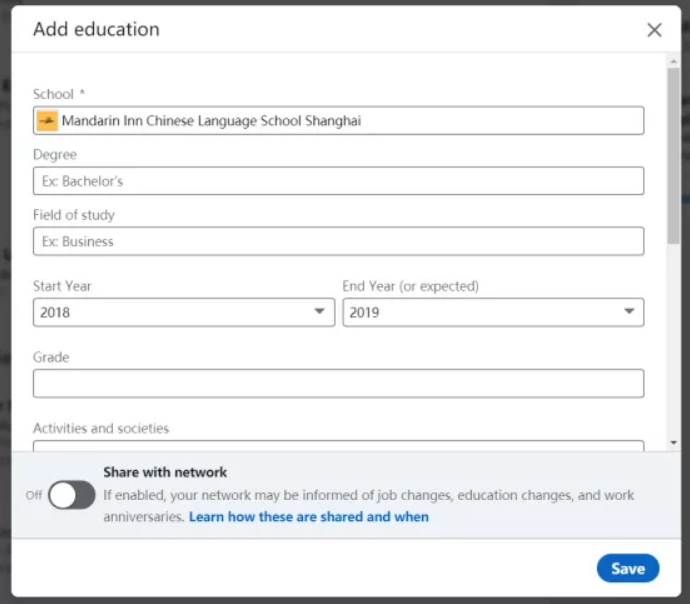 3. You can input a short introduction in Description if you like;
4. Finally, save it!
Email back to let us know that you have finished update your Linkedin profile. You will be entitled to:
a. An endorsement of Chinese language training experience on your Linkedin profile;
b. A reference letter from Mandarin Inn, if requested for your future career;
c. A coupon of RMB 300 off for future Mandarin course;
d. To be invited to participate an alumni event by free
The success of Mandarin Inn lies in the fact that we have been supported by our students and teachers from various backgrounds during the development of school, of which we are very proud. We always care about you no matter where you are. Remember to go back and visit school when you have time!
Thank you!
Mandarin Inn Chinese Language School