​"兔年Tù Nián" (the year of rabbit) is coming. Do you know what dose "Nian" mean? How do Chinese people celebrate the new year? Let's check out the origin and culture of Chinese new year customs!
In China, "Nian" was actually the name of a furious monster in ancient times. It was born to be very ugly and ferocious and would come down from the mountain and feed on humans every New Year's Eve. Villagers were very afraid of it and locked their doors earlier before sunset on that day. They stayed home and prayed for survival.
Later They learned that "Nian" was afraid of red-colored things, noise and fire. So people decorated their houses with red things, lit up lots of fireworks, and played drums loudly to drive"Nian" away. They also prepared a big meal to eat early before "Nian" come. "Nian" was scared away by the fireworks and crackers and villagers did that year after year. But those activities of families, sitting together for a big meal, dragon dance and drum play, fireworks show and red decorations, were kept as traditions till present days. The Chinese phrase "Guo Nian" means surviving the attack of the monster "Nian", which remains another common expression of celebrating the Chinese New Year.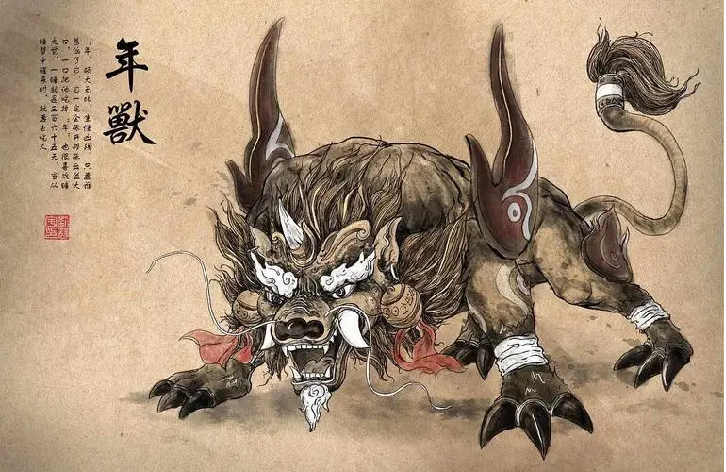 2. The Chinese New Year celebrating customs
年夜饭 nián yè fàn - Chinese New Year's Eve is called "除夕夜chú xī yè". Just like Christmas Eve, 除夕夜chú xī yè is a time for a family reunion. People ring out the old and ring in the new on this big day. And the most important family dinner people will have is called "年夜饭", with diverse and terrific cuisines. We will clean the house and decorate before midnight, set off fireworks, and stay up late to welcome the arrival of the New Year.
放鞭炮 fàng biān pào - As what has mentioned above, people set off fireworks to scare the monster "Nian" away, which is kept as a tradition until nowadays. Setting off firecrackers represents a scene of prosperity and expresses good wishes of boom and happiness for the coming year.
穿新衣 chuān xīn yī - Out with the old and in with the new, people will wear new clothes on the first day to welcome the beginning of the New Year.
包饺子 bāo jiǎo zi - Dumplings are eaten at many traditional festivals in China, but those eaten on New Year's Eve have different meanings. When people make dumplings, they will put coins in specific ones. Whoever eats the dumplings with coins in them will attain good luck in the year ahead.
压岁钱 yā suì qián - "压岁钱yā suì qián " is cash in a red envelope, a gift from order generation to children in the family. It's also called Lucy Money and it symbolizes luck and wealth. A red packet is believed to ward off evil spirits and to bring good fortune to the receiver.
贴春联 tiē chūn lián - Every Spring Festival, every household would choose beautiful red spring couplets and stick them on the door to bid farewell to the old and welcome the new, increasing the festive atmosphere of the festival as well. Spring festival scrolls are used to express good wishes of the Chinese to ward off evil spirits, eliminate disasters, and welcome good luck.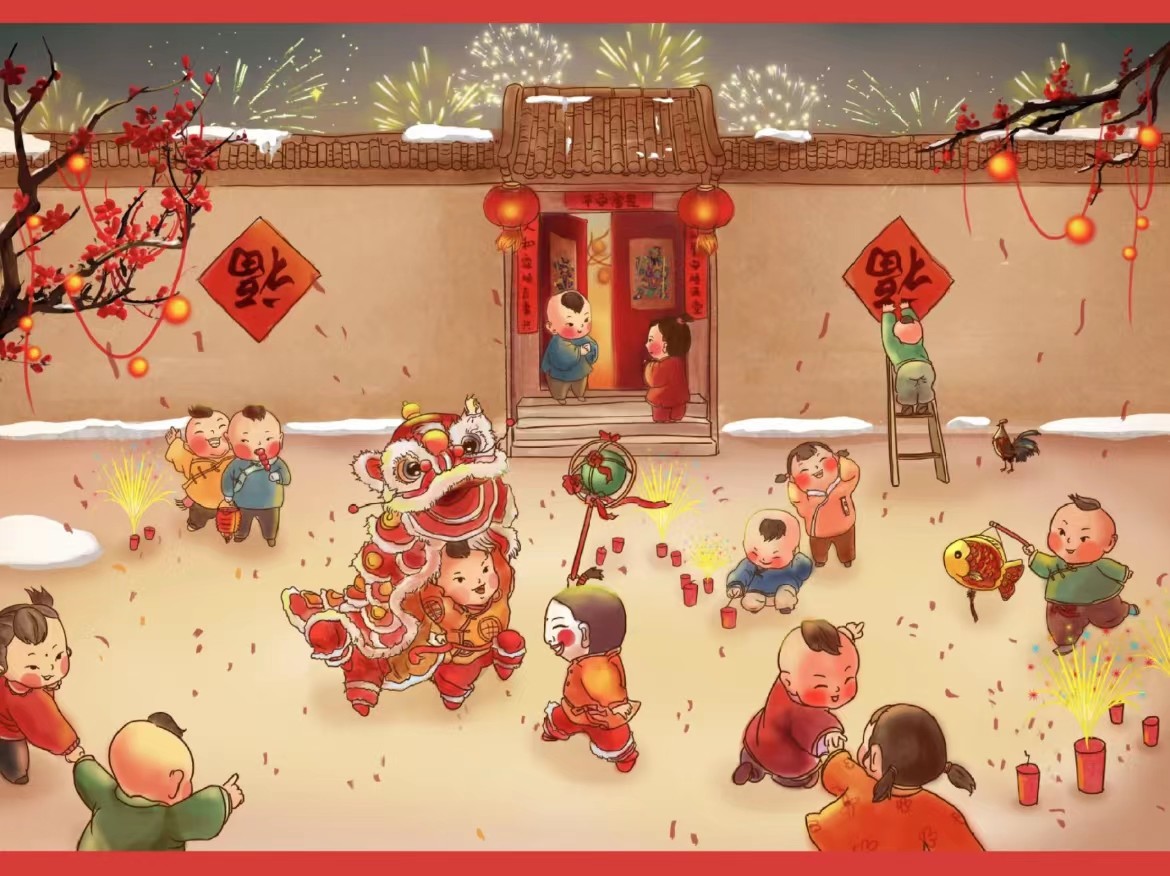 The Spring Festival is the most important festival in China. The customs of the Spring Festival vary in different regions, but the only thing that remains the same is family reunion and blessings to relatives and friends. If you want to know more about Chinese traditional culture, welcome to try our newest coupons and learn Chinese smarter with Mandarin Inn!
Groups are available for a trial~