Return to site
I like to meet people who want to learn a language
He like to meet Chinese people who want to learn English language. Let's see how does he learn Mandarin...
Stephen is the "student of the month" last month at Mandarin Inn. He like meet Chinese people who want to learn English language and he can learn Mandarin language. He has a great help in his spoken Chinese.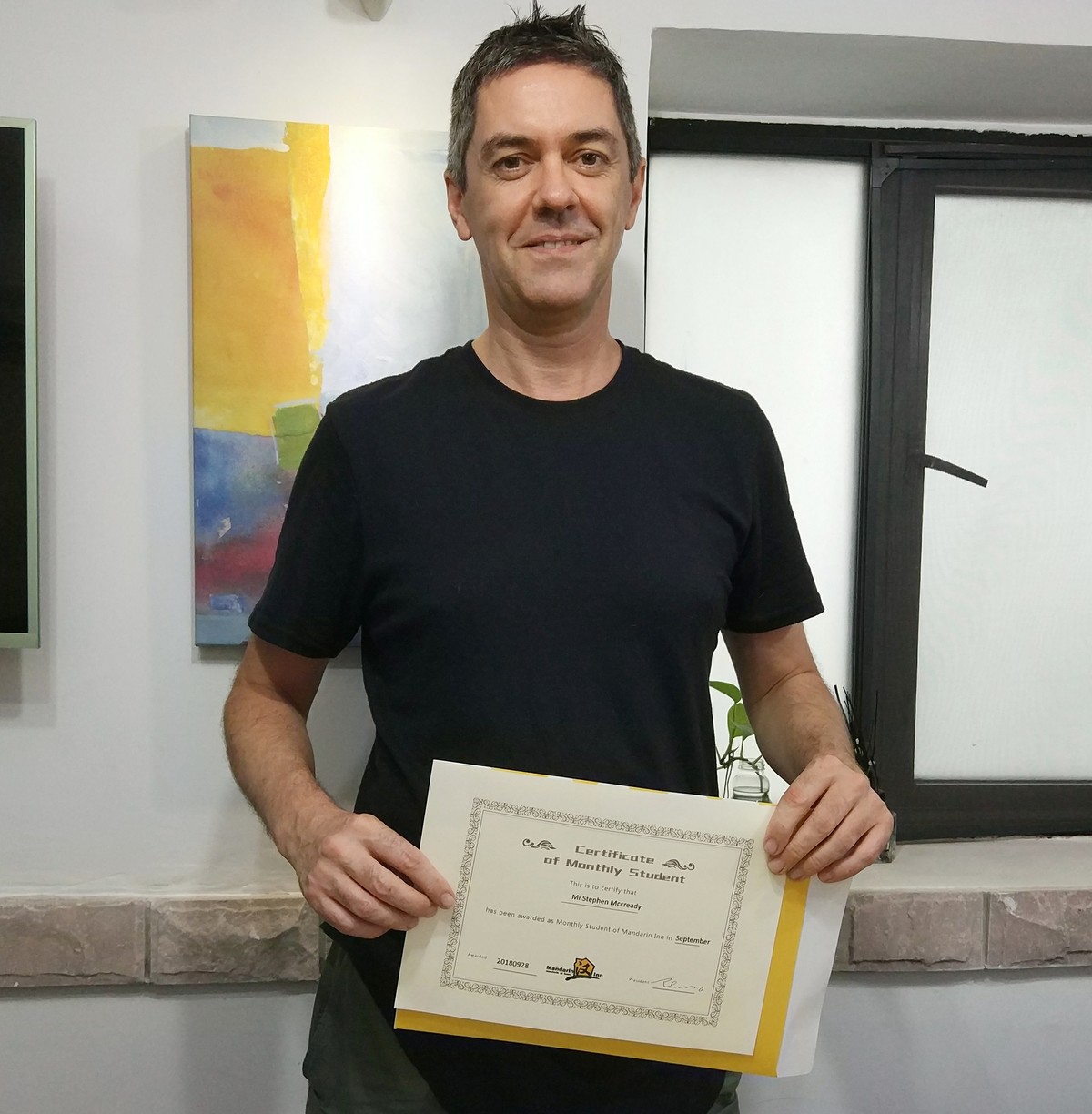 "我家在苏格兰,我搬去美国,2016年我搬去新加坡,之后2017年我来了上海,我是程序员,我也训练小狗。我学汉语考试三级。"
I was born in Scotland, studied computer science and moved to the United States. I also lived in Singapore for a year. Then from there, I came to Shanghai. I work as a freelance software engineer and also train dogs.
Q1: Except for language, what's the hardest thing to understand for you in China?
只(zhī)有( yǒu)汉( hàn )语(yǔ) ,only the language.
Q2: As a good student, how do you learn Mandarin? Would you like to share your tips?
我(wǒ)看(kàn)中(zhōng)文(wén)电(diàn)视(shì)节(jiē)目(mù),孩(hái)子(zǐ)的(de)节(jiē)目(mù ),children's TV, cartoons. 我(wǒ)有(yǒu)一(yī )个(gè)language apartment, someone who wants to learn speak English and Chinese, so I teach her English and she teaches me Chinese, about once a week. We will meet on online or maybe meet at café (Starbucks). There is a website called Conversation exchange. We can meet people who want to learn your language and you can learn their language. It's Very helpful.
Q3: Do you think it is necessary to learn Chinese Characters?
Yes, especially the radical, because later on it helps you identify the differences between characters if you learn radicals. And it helps with some of the meanings as well. I also read Chinese book. So there is a company which they publish books for people who want to learn Chinese. So they took an English story and written in Chinese, and use HSK 3 level language. So it is easy. I can write something.
Q4: What kinds of teacher's behavior will encourage you to learn Mandarin?
Only speaking Chinese in class. And no concentrating on listening, and speaking in class because I can do reading and writing at home.
Q5: Mandarin Inn offers online course management system and some resources for learning Mandarin. How do you think about these online things? Does it works? Do you have some suggestions for that?
Use the audio on mine is very good. So if I concentrate or something I can lesson to the tasks, practice and also there's flash cards is very good. I use the flash cards because they all have something definitely. The motive came from different ways and doing with flash cards. So they have multiple choice you can get the answer.