The Heart of Gratitude: Five Ways to Express Thanks in Mandarin
How to say thank you in Mandarin,
As we approach the season of Thanksgiving, a time when gratitude takes center stage in hearts and homes worldwide, it's the perfect moment to reflect on the Mandarin equivalents of giving thanks. At Mandarin Inn Chinese School, we're here to guide you through the rich expressions of gratitude that Mandarin has to offer. These expressions are not just phrases but are a celebration of culture and connection. Let's discover the beautiful ways to say 'thank you' that go beyond the words themselves, just in time for this season of appreciation.
1. 感谢 (gǎn xiè) - The Standard Thank You
"感谢" is the universal expression for thanks, used broadly from the dinner table to the boardroom.
Example: "我感谢大家的到来" (Wǒ gǎnxiè dàjiā de dàolái), which means "I thank everyone for coming."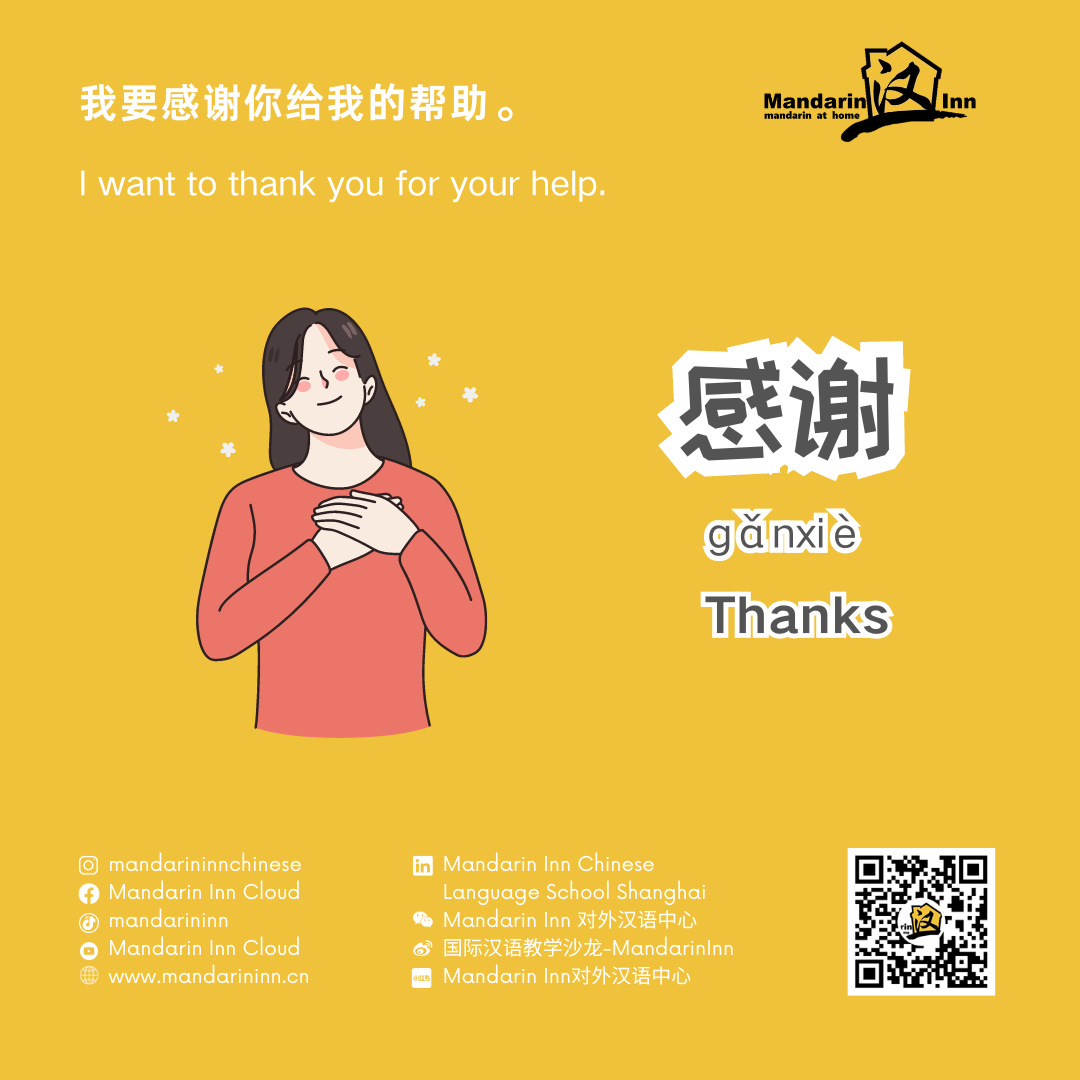 2. 感激 (gǎn jī) - The Heartfelt Thanks
For the times when someone's actions warm your heart, "感激" conveys your deeper emotional gratitude.
Example: "对于你在困难时期的支持,我深感感激" (Duìyú nǐ zài kùnnán shíqī de zhīchí, wǒ shēn gǎn gǎnjī), meaning "I am deeply grateful for your support during the hard times."
3. 致谢 (zhì xiè) - The Formal Appreciation
When a formal expression of thanks is required, "致谢" is the phrase that reflects solemn gratitude.
Example: "在此,我向所有的工作人员致谢" (Zài cǐ, wǒ xiàng suǒyǒu de gōngzuò rényuán zhìxiè), or "Here, I extend my thanks to all the staff members."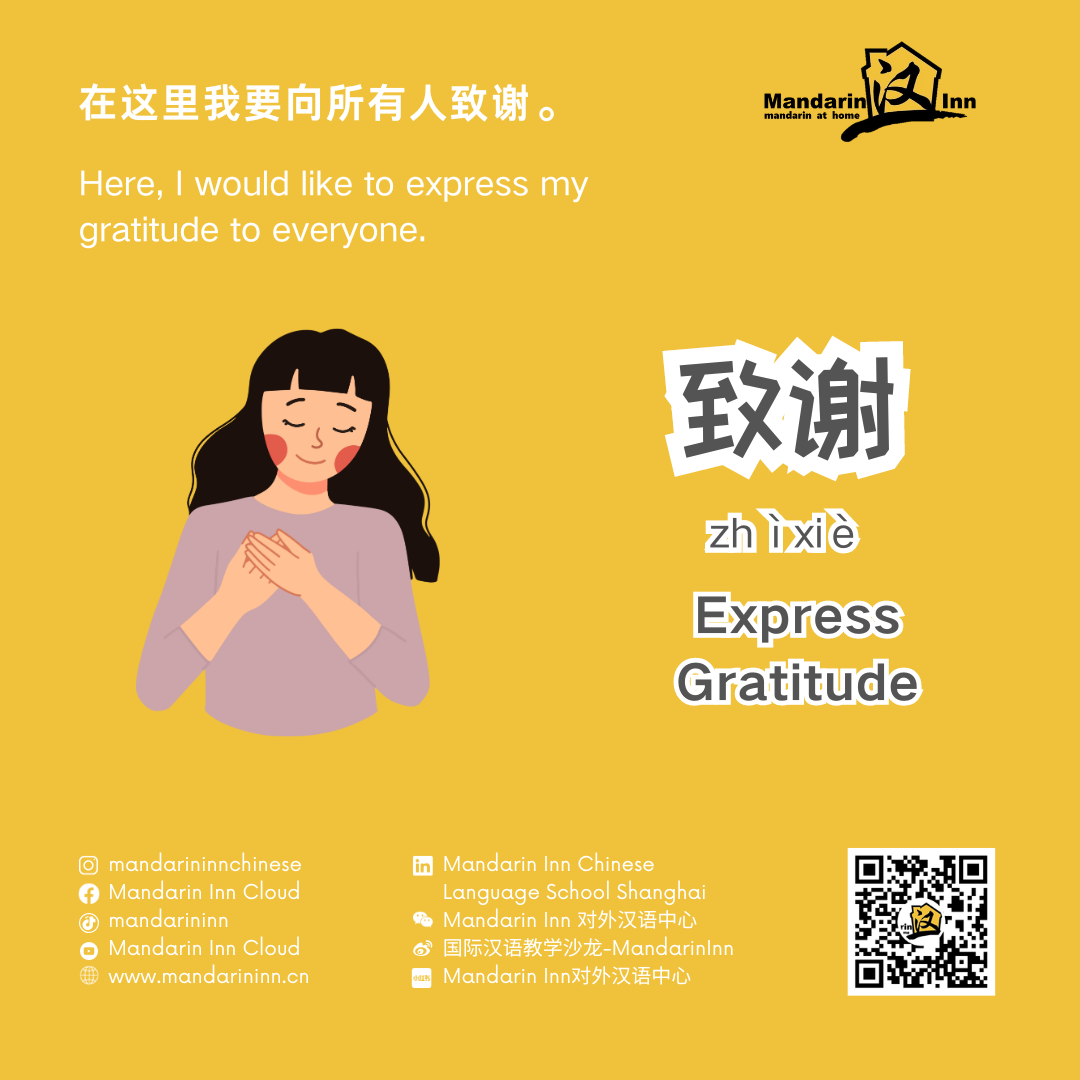 4. 赞赏 (zàn shǎng) - The Admiring Thanks
"赞赏" is ideal for expressing your appreciation for someone's exceptional qualities or actions.
Example: "我赞赏你的勇气和决心" (Wǒ zànshǎng nǐ de yǒngqì hé juéxīn), "I admire your courage and determination."
5. 感恩 (gǎn ēn) - The Reflective Thanks
"感恩" carries a profound sense of gratitude, often used to express thankfulness for life's blessings.
Example: "在这感恩节之际,我对朋友和家人的支持表示感恩" (Zài zhè Gǎn'ēn Jié zhī jì, wǒ duì péngyǒu hé jiārén de zhīchí biǎoshì gǎn'ēn), meaning "On this Thanksgiving, I am grateful for the support of my friends and family."
Embrace this Thanksgiving season by not only giving thanks in your language but also in Mandarin, enriching your cultural experience and expression. Join us at Mandarin Inn Chinese School, where cultural fluency is part of our teaching philosophy. Discover our courses and let the spirit of gratitude extend beyond borders and languages. Here's to a Thanksgiving filled with gratitude and new linguistic adventures!