10月20日晚,Mandarin Inn主办了一场以"谈论人物"为主题的线上公开课活动,本次课程主讲人是具有丰富汉语教学经验的Sophia老师。Sophia老师为前来听课的各位外国同学详细讲解了汉语中询问、描述和比较人物特征的方法,并带领大家作了相应的练习活动。
On the evening of October 20th, Mandarin Inn hosted an online open class with the theme of "I can talk about people". The speaker of this class was Sophia, a teacher with rich experience in teaching Chinese. Teacher Sophia explained in detail the methods of asking, describing and comparing people's characteristics in Chinese for foreign students who came to the lecture, and led everyone to do corresponding exercises.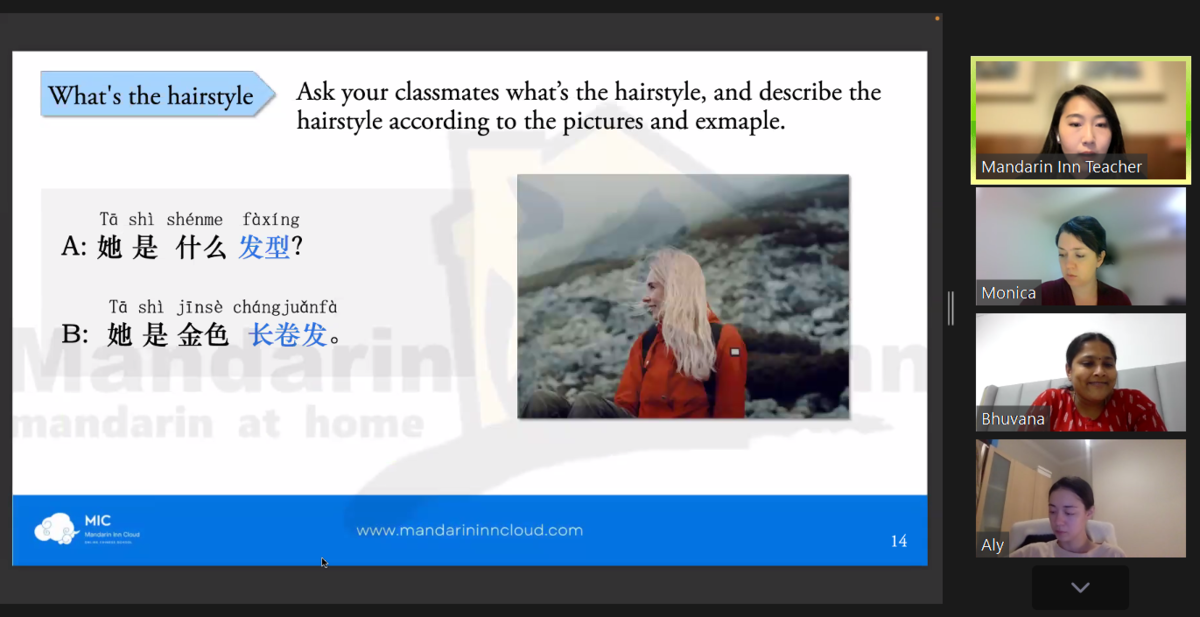 来参加本次公开课的同学有Adam, Aly, Bhuvana, Monica, Sarah, 等等。大家在活动中积极地与Sophia老师互动,学习基本的用词、短语和句型表达,交流讨论如何去提问与描述一个人的性格、身材、外貌、发型等特征。
Adam, Aly, Bhuvana, Monica, Sarah and other students joined the online open class. In the class, Everyone actively interacted and discussed with Teacher Sophia during the activity, learning basic words, phrases and sentences, talking about how to ask and describe a person's personality, figure, appearance, hairstyle and other characteristics.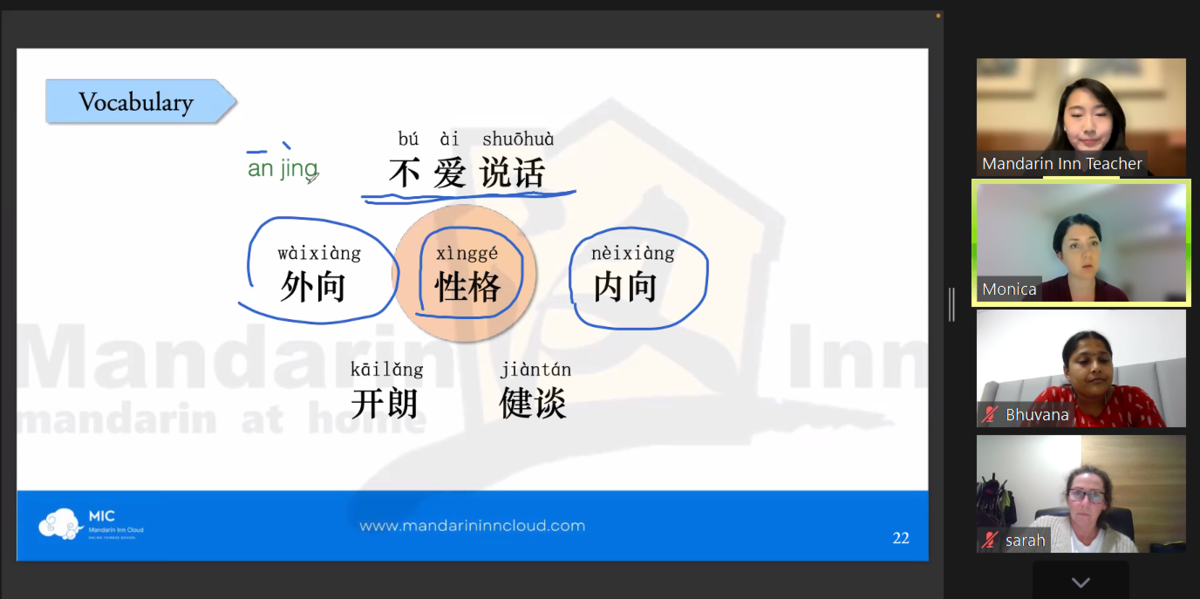 通过清晰简单的讲解,Sophia老师将讨论与各位同学的生活实际紧密地结合了起来,引导同学们理解和记忆一些固定搭配的使用。本次公开课涉及的话题主要有:对比不同人的性格特征、提问不同人的外貌特征、描述自己和别人的各种特征、介绍人物的身高、性别、年龄、工作等基本信息。
Through a clear and simple explanation, Teacher Sophia closely combined the discussion with our real life, and guided us to remember some fixed collocations. The topics involved in the open class were about: comparing personality characteristics, asking questions about appearance characteristics, describing one's own characteristics or those of others, and introducing basic information such as the height, gender, age and job of a person.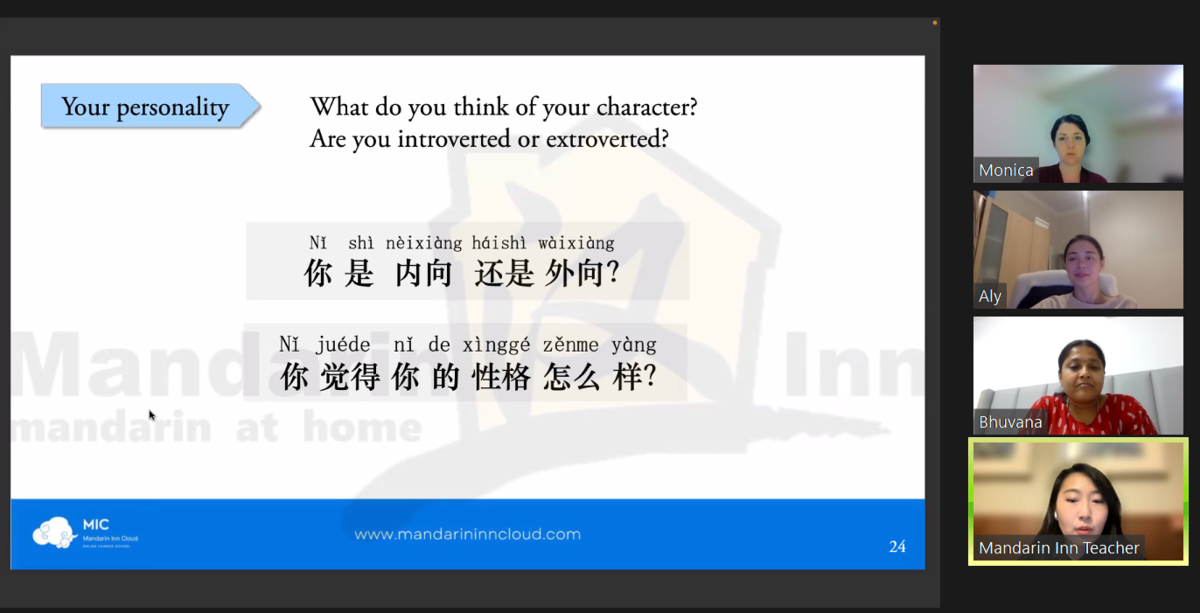 首先,Sophia老师向大家提问,询问了各位学员的性格特征,怎样去向别人介绍自己的性格等。并陈列了一些常用汉语词语的读音、意思和用法,例如"眼镜""身材""外表""身高""发型"和"外向""内向""开朗""健谈""性格"。
Firstly, Teacher Sophia asked everyone about their personalities characteristics, and asked how to introduce our personalities characteristics to others. Teacher Sophia also displayed the pronunciation, meaning and use of some useful Chinese words, such as glasses, figure, appearance, height, hairstyle, extroversion, introversion, openness, talkativeness and personality, etc.
学习了相关的词汇后,Sophia老师引入了生活领域中的实用对话,例如"你今年多大""她是什么发型""他性格怎么样"等疑问句。并带领大家一起朗读、理解"他很帅""他有很多白色的胡子""他看上去很年轻"他有一米八左右""她戴着一副眼镜""她长得很漂亮""她大概40岁""我比较外向""我有时不爱说话""我的朋友很健谈"等陈述句。
After learning the relevant vocabularies, Teacher Sophia introduced some common conversations in daily life, such as "How old are you" "How about her hairstyle" "How about his personality". Then, Teacher Sophia led everyone to read the statements such as "He is handsome" "He has a lot of white beard" "He looks very young" "She wears a pair of glasses" "She is beautiful" "She is about 40 years old" "I am out-going" "I don't like to talk more sometimes" and "my friends are talkative".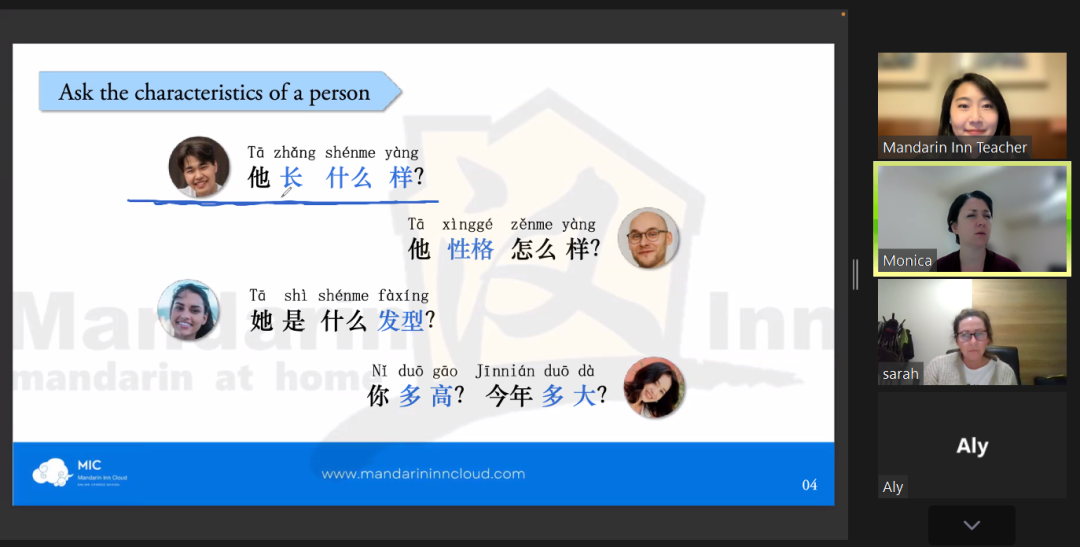 互动和练习环节,同学们在Sophia老师的带领下进行了词汇和图片的固定搭配训练、完善补充对话空白部分的口语交际练习等。大家主动地将自己在生活中遇到的汉语表达问题与老师进行了交流。
Next, in the interactive practice session, the students, under the guidance of Teacher Sophia, matched the collocation of Chinese vocabularies with some pictures, and filled the oral communication practice to complement the blank in the dialogue. Everyone took the initiative to communicate with Teacher Sophia about their own Chinese expression problems in day-to-day life.
在练习结束后,Sophia老师还重点介绍了"棕色""红色""紫色""黑色""金色""白色""美丽""帅气""年轻""漂亮""无聊"等形容词,以及"短发""长发""直发""卷发"等高频名词。另外,还举例介绍了"真好看""很聪明""非常健谈""有点内向"等短语的使用技巧和"某人是/有(一头)黑色的长直发"的意义。
After doing the exercise, Teacher Sophia also focused on the Chinese vocabularies, including high-frequency adjectives such as brown, red, purple, black, gold, white, beautiful, handsome, young, beautiful and boring; high-frequency nouns such as short hair, long hair, straight hair and curly hair. In addition, Teacher Sophia illustrated the skills of phrases using such as "really beautiful", "very smart", "pretty talkative" and "a little introverted" and the meaning of "someone has long straight black hair".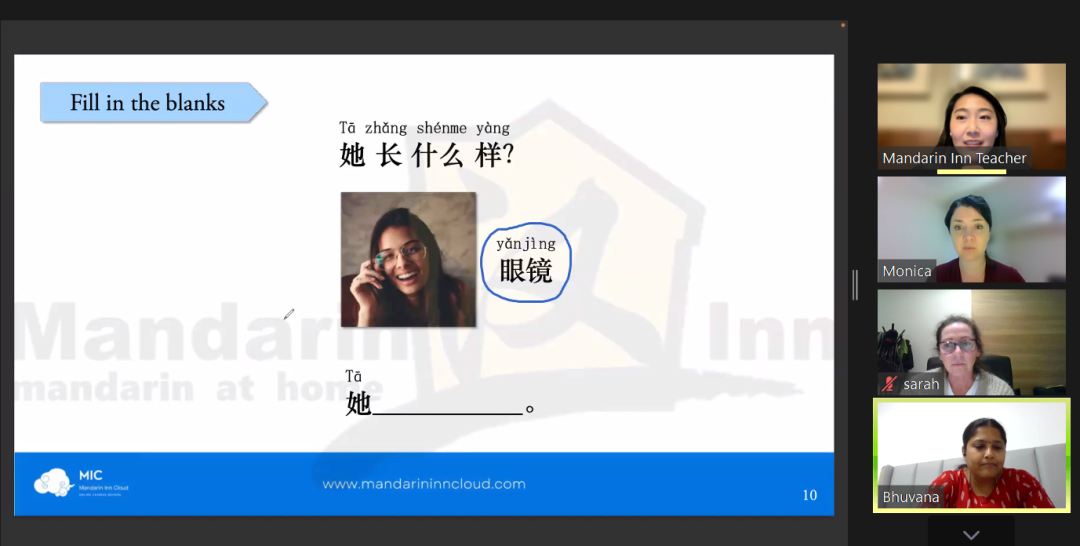 最后,Sophia老师带领听课的同学们一起进行了复习巩固。此外,在Q&A环节中,Sophia老师耐心解答了大家汉语学习的相关问题,鼓励大家保持对汉语的兴趣。
Finally, Teacher Sophia led the students to review all the newly learned Chinese expressions together. Besides, in the Q&A session, Teacher Sophia patiently answered questions about Chinese learning and encouraged everyone to keep their interest in Chinese.
如果你对Mandarin Inn的汉语课程或者公开课活动感兴趣,欢迎关注、参与我们的后续活动!
If you are interested in our Chinese courses or open classes, please follow us and join for further activities!
Groups are available for a trial~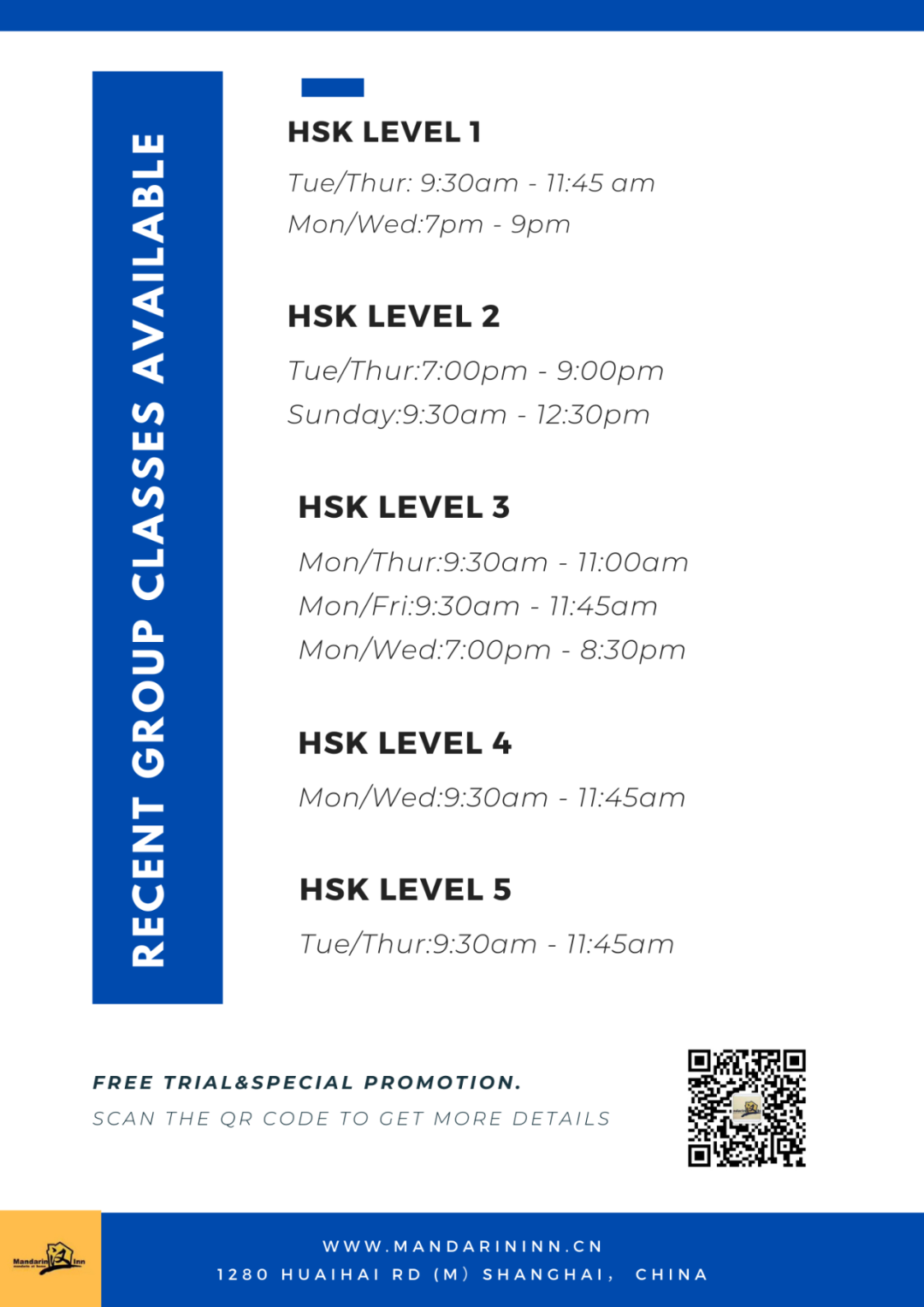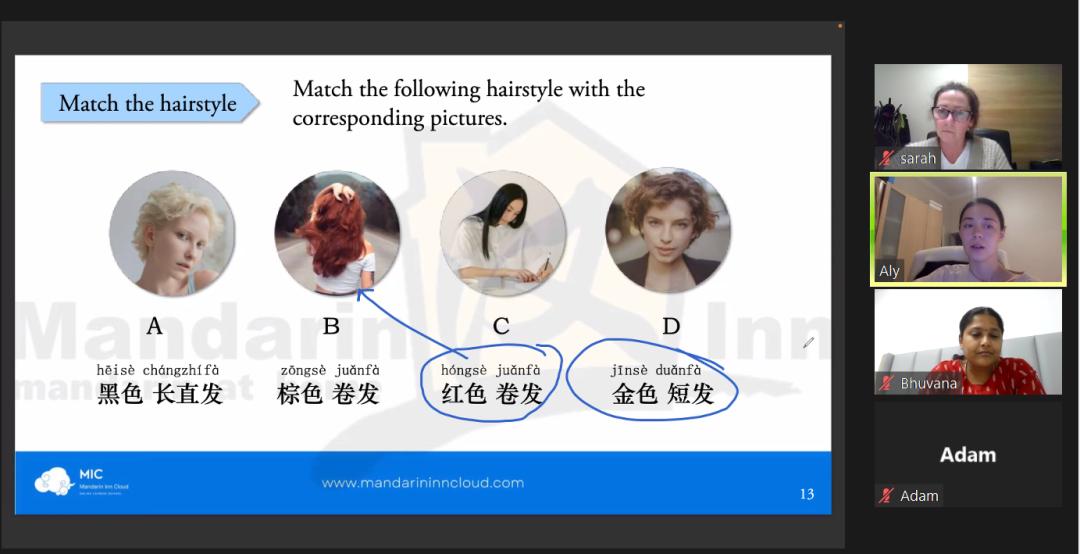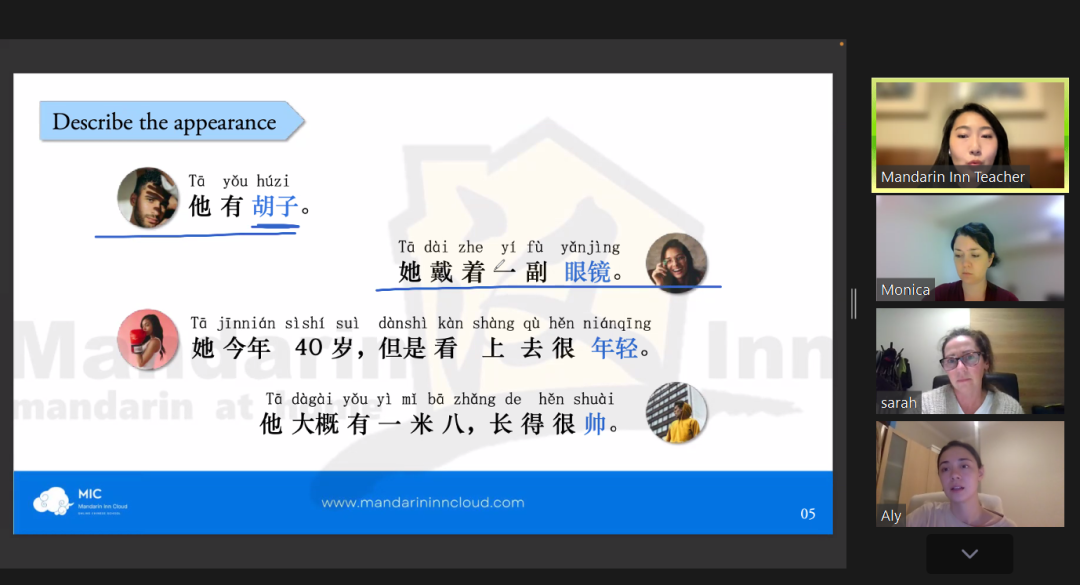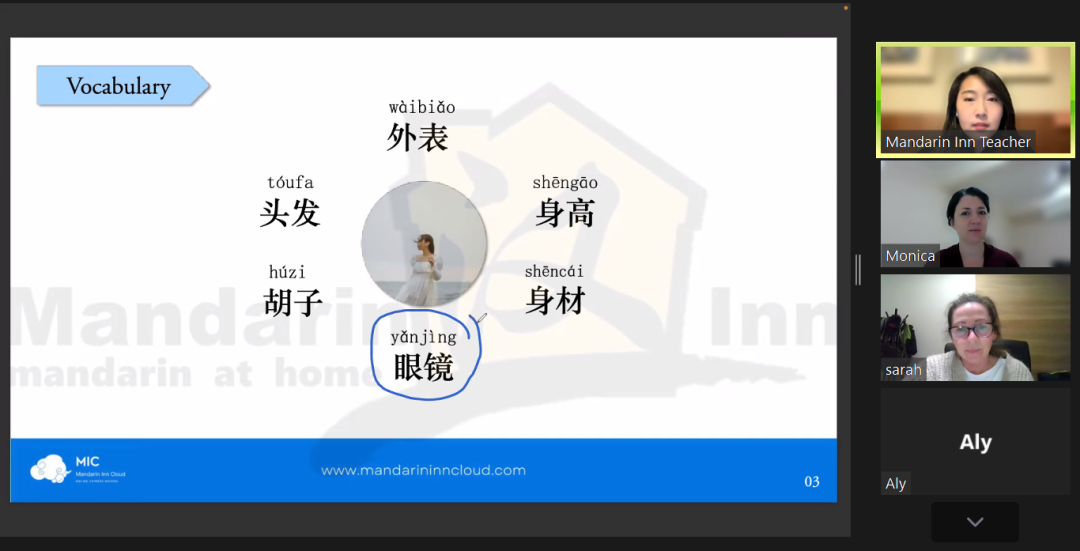 What is Mandarin Night?
Mandarin Night is a good opportunity to learn more about Chinese culture, meet interesting Chinese and foreign people, even find a friend, diverse your workday and improve your Mandarin! Nice atmosphere with nice people will help you to relax while expressing your opinion in Chinese and train your speaking and listening skills with pleasure!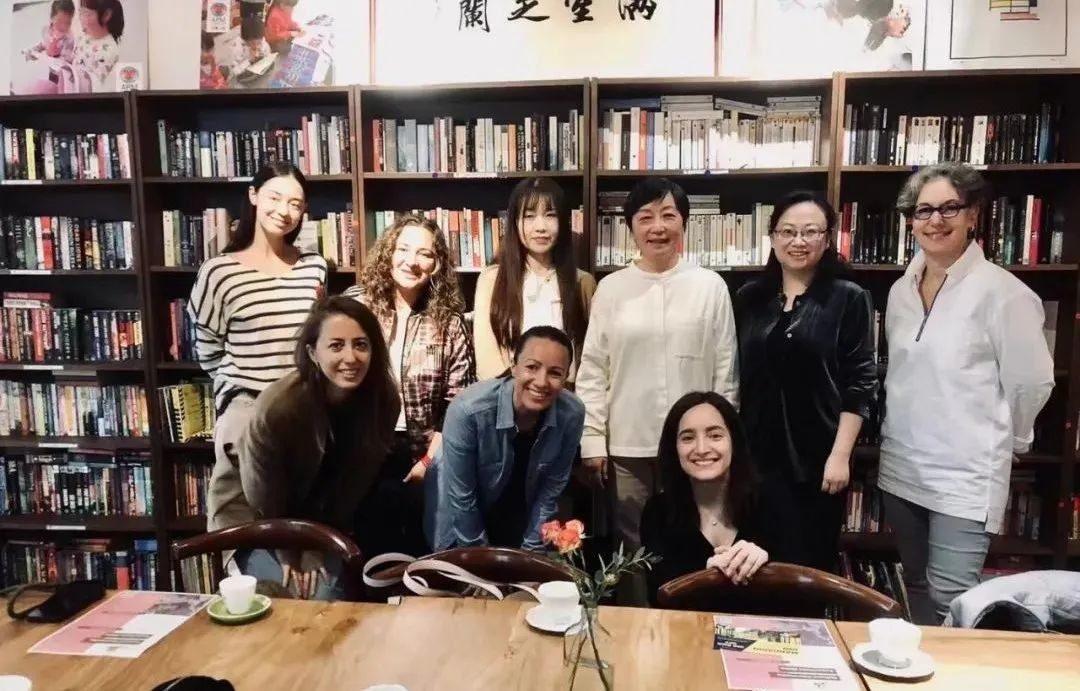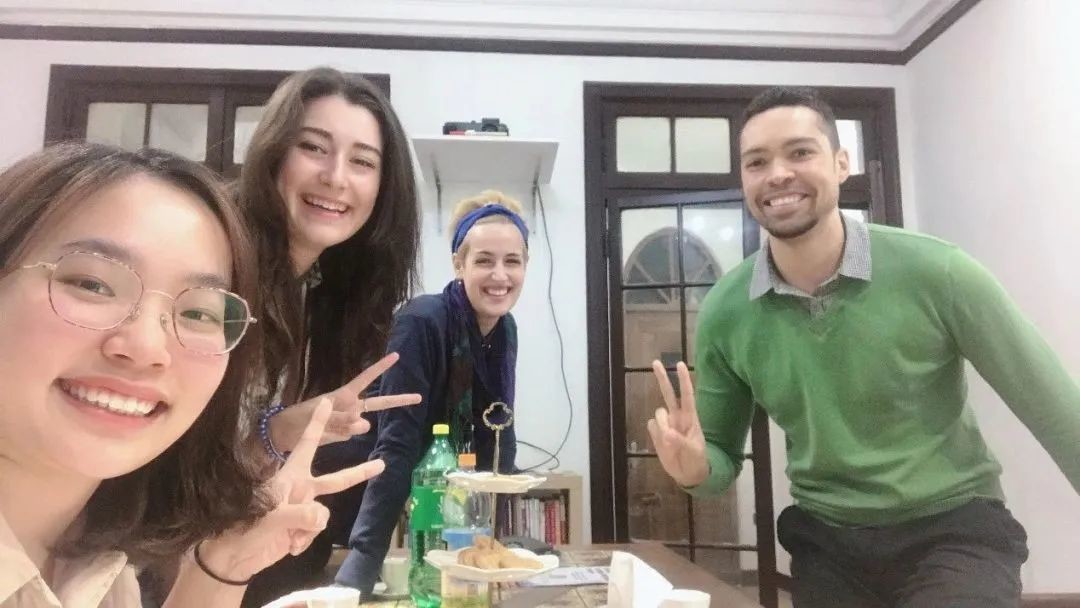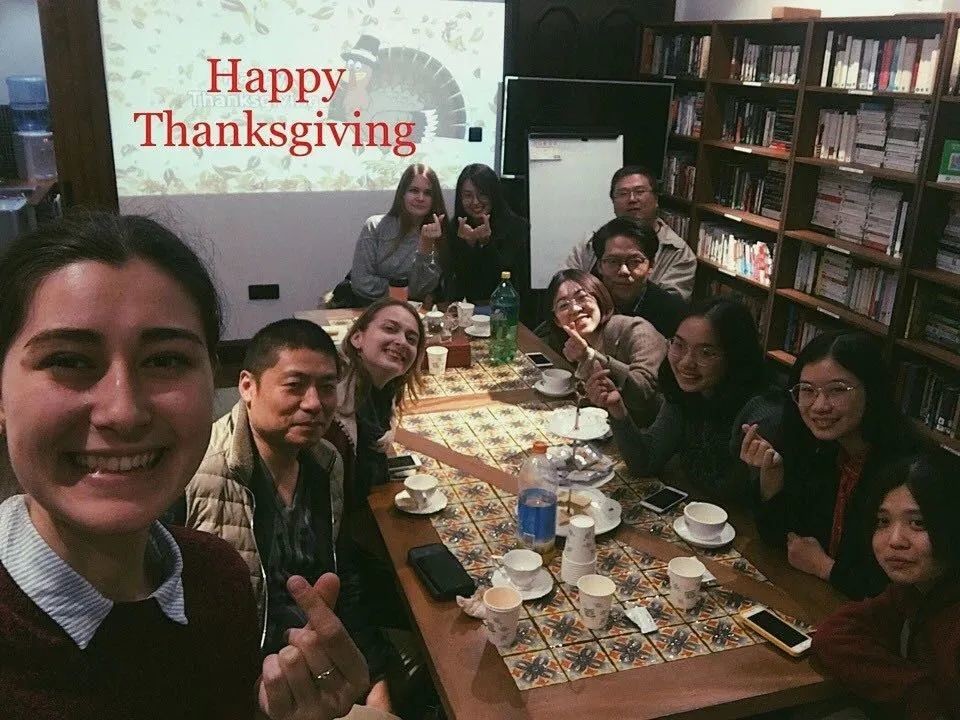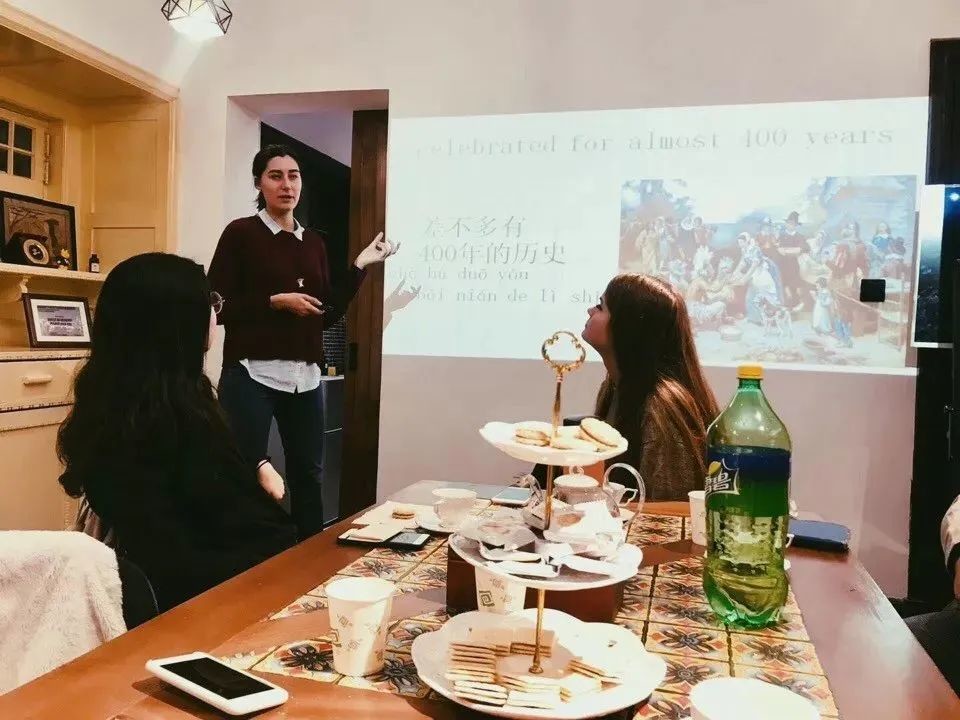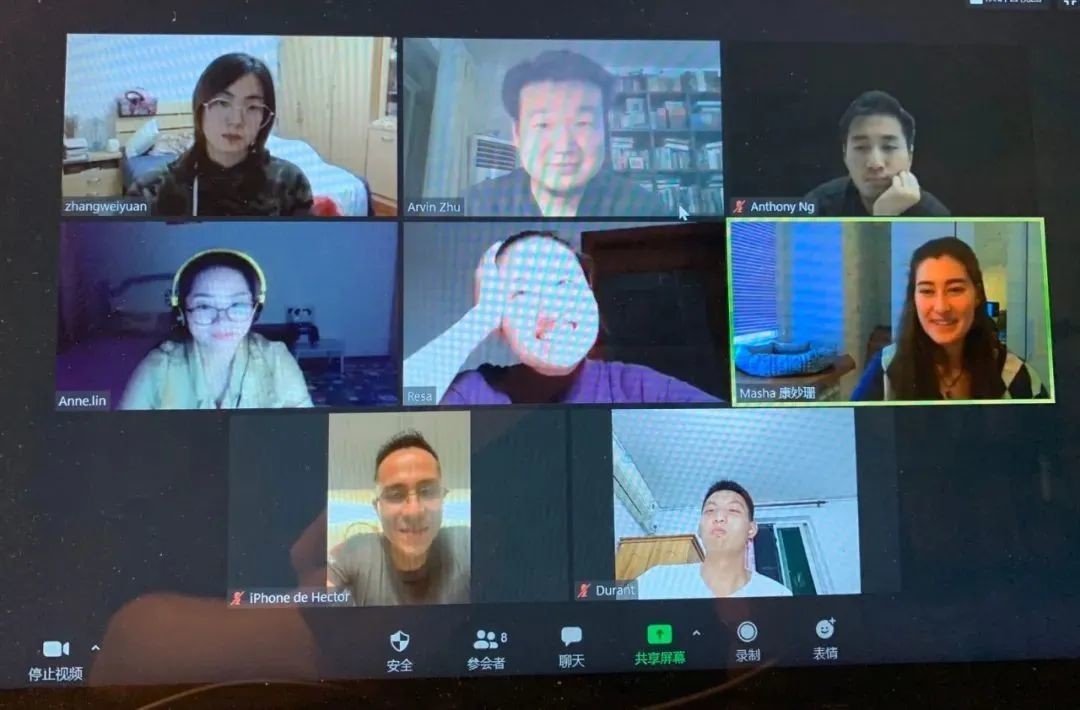 Join us to learn Mandarin, meet friends and have fun!
关注我们的微信公众号,每周都有国际汉语教学的最新资讯,以及近期课程优惠等: